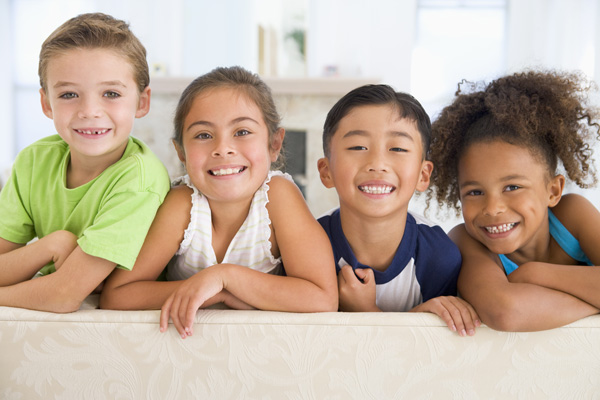 When it comes to dental hygiene, kids seem notorious for finding ways to avoid and wiggle their way out of actually following through. In avoiding brushing their teeth on a regular basis, the kids risk more than just getting in trouble. By visiting a kid friendly dentist, parents can help the dentist instill healthy habits of proper dental hygiene through positive experiences at dental checkups.
Don't let proper dental care slack off
With school, work, cleaning the house, extracurricular activities, conflicting schedules for those extracurricular activities, family gatherings and much more, parents can have difficulty scheduling a dentist appointment. Not only can there be scheduling conflicts, but parents may struggle with kids who do not want to go to the dentist at all. While kids will be forced to go to the dentist, even if they do not want to, they will not benefit from constant negative experiences.
The Centers for Disease Control and Prevention, CDC, finds that nearly 86 percent of children between the ages of 2 and 17 visited the dentist at least once in 2014. Within the same year, the CDC finds that only 62 percent of adults between ages 18 to 64 had been to the dentist at least once. Adults need to practice the standards that they set their kids each day. Growing up with negative dental experiences will result in kids visiting the dentist less frequently as adults.
A kid friendly dentist can provide a comfortable atmosphere for the kid while continuing to provide proper dental care as well. A dentist that offers specific care to kids will help instill proper dental care while also helping kids develop positive feelings and experiences with dental checkups. A kid friendly dentist can help patients keep a positive attitude toward a dental visit.
Gentle on the kid's teeth, tough on the plaque
A dental checkup at a kid-friendly dentist can keep patients' teeth healthy and prevent infection, but a dentist cannot be there all of the time. Between each appointment, a kid needs to keep up proper dental care or else he or she will raise the risk of infection. There are methods parents can use to help a child grow up with a positive view and understanding on dental care.
Mouthhealthy.org lists multiple two-minute videos that people can find on YouTube, which is perfect for motivating a child to brush his or her teeth and be happy in the process. Play the video while the child is brushing to help time it and make sure they brush for the right amount of time. "Brush your teeth twice a day with a soft-bristled brush. The size and shape of your brush should fit your mouth allowing you to reach all areas easily," mouthhealthy.org also recommends.
It is beneficial to make sure to purchase a toothbrush and toothpaste designed for kids. The smaller brush will be gentle on their teeth but strong against plaque. By brushing with their kids, parents can help show that even adults brush regularly and are not just forcing kids to brush. By providing a positive example and experience for dental hygiene, parents can help a kid grow up with a positive view of dentistry in general.
By instilling proper dental hygiene at home and making regular visits to a kid friendly dentist, parents are able to help ensure their child will continue to practice dental hygiene in the future. A kid friendly dentist can help kids walk down that path. Call our office for more information.
Catherine Streegan DMD, A Dental Corporation
At Catherine Streegan DMD, A Dental Corporation in Solvang, CA, we will customize your treatment to match your needs and schedule. Our professional staff creates a calm atmosphere for you during the appointment and treatment process. If you have any questions or are unsure of what is causing the pain in your teeth, do not hesitate to call us.
We will answer any questions and make sure you get all of the necessary information. We can help prevent damage to your teeth and set you on track for a lifetime of pristine oral health. At Catherine Streegan DMD, A Dental Corporation, your experience with us and your dental health are our prime concern.
---
Related Posts
March 6, 2017
Kid Friendly DentistA kid friendly dentist can provide dental care for younger patients to help instill a positive experience with visiting the dentist. The first visit to a dentist can be intimidating for your child, …