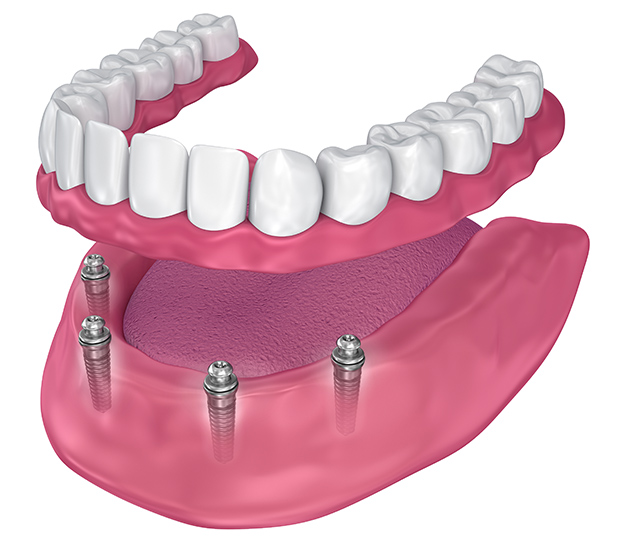 At Catherine Streegan DMD, A Dental Corporation, we offer the All-on-4® procedure for patients that are looking for a convenient way to replace missing teeth. If you live in the 93463 area and have experienced tooth loss, we encourage you to visit our Solvang, CA office to discuss the many options available to you.
You Don't Have to Live With Tooth Loss
There are distinct advantages to living in the modern world. One of these, from the dental perspective is the ability to live without having the stigma and challenges associated with tooth loss. According to the Periodontic Association of America, roughly 175 million people, of all ages, have lost one or more teeth and this number is actually expected to grow larger over time. What this has done is spurred growth in the replacement tooth industry and the revolution of dental implants. Dental implants are a way to get the most natural looking and behaving replacement teeth. However, the standard implant procedure is not always physically viable or convenient. In this situation, the All-on-4® procedure can be a better solution.
What is All-on-4®?
Basically, All-on-4® is a minimally invasive way of placing a full mouth of dental implants by only using four implants to support a full arch (upper or lower) fixed non-removable replacement teeth. Essentially what All-on-4® does, is allow you to have a full set of teeth without having to undergo multiple surgeries and replacements to place a full set of implants in your mouth. The greatest thing about this is that the All-on-4® procedure can typically be completed in our Solvang office during one appointment under local anesthesia. For our 93463 patients who have lost all their teeth or may need to have the remaining teeth pulled due to decay, this is an amazing advancement that allows them to have a full set of teeth without undergoing multiple procedures. Simultaneously, this solution gives our CA patients the kind of teeth that look real and act exactly like the original set did.
Who Should Get All-on-4®?
This is one of the simplest questions to answer because anybody who has lost teeth, and wants to have a permanent good-looking set of replacement teeth, should use dental implants. More importantly however, when referring to the All-on-4® systems, people who have lost all of their teeth or a large portion of their teeth and want to live a full and healthy lifestyle should consider replacing their teeth with implants over removable dentures. The ideal candidate for All-on-4® dental implants is someone who already wears dentures or does not want to live with lost teeth. Additionally, this is an ideal procedure for someone that does not have the bone density to support a full set of individual implants, the time to have individual implants placed, or the budget to pay for them. This procedure is faster and more affordable.
Why Do People Prefer All-on-4®?
There are several ways in which All-on-4® implants are better than the dentures you currently use. All-on-4® implants are cleaned, brushed, and used exactly like your natural teeth are. They do not have to be taken out. There is no need for messy additives or uncomfortable wires to be placed in your mouth. Even more importantly for our Solvang patients, dental implants allow you to eat any food that your heart desires. You do not have to worry about hot or cold affecting your dentures. You also can bite down with up to 70% more force which allows you to eat the foods that you love. Finally, All-on-4® dental implants look exactly like your natural teeth. This means is that no one will be able to tell that you are wearing a dental prosthetic. From a dental health perspective, it is important to note that when you have All-on-4®, it is going to prevent for the bone deterioration in the jawbone and ultimately will work to restore your facial features by fighting resorption. Once stimulated by your new set of teeth the jawbone will send a message to the body that it is being used again to support your teeth. This will help the jawbone to regain some of the mass that it has lost previously. Many of our 93463 patients notice a difference in their facial structure as a result.
The Success of the All-on-4® Procedure in Our Solvang Dental Office
All-on-4® dental implants have a success rate of 98%. What this means is that you have a 98% probability of leaving our Solvang offices with a perfect set of teeth that are permanently attached to your jawbone. To discuss how successful the procedure may be for you, call (805) 686-2492.
The Process of Getting All-on-4® at Catherine Streegan DMD, A Dental Corporation
Typically, the surgery takes approximately two and a half hours per arch you can get your All-on-4® dental implants installed on your upper lower or both arches at the same time. The process of getting All-on-4® dental implants can be laid out in six simple steps. The first step is to have a detailed examination where we will look at your records, your existing conditions, whether you have a denture, what your facial structure needs are, and any other factors that could come into play when placing your dental implants. The second step typically involve CT scans, which are 3D pictures, of the jawbone including the position of the teeth to be replaced and giving us critical information about where the bone sinuses and nerves are located for the implants. Next, our dentist will create a computer simulation of the implants which are digitally positioned into the jawbone at the appropriate location to give you the most support you can get with your replacement teeth. All of this is adjusted as need be and allows for the fabrication of your new set of teeth. Finally, the most important step is the oral surgery. When you come in for surgery, we will provide you with anesthesia and then place the dental implants directly into your jawbone, so that your new set of teeth can be secured in place.
Schedule a Consultation
At Catherine Streegan DMD, A Dental Corporation, we can replace your teeth with this convenient and innovative procedure. To discuss the many benefits or to get started, call 805-686-2492 and schedule an examination and consultation with our Solvang, CA dental office.
Helpful Related Links
About our business, license, and website security
Catherine Streegan DMD, A Dental Corporation was established in 1992
We accept the following payment methods: American Express, Cash, Check, Discover, MasterCard, and Visa
We serve patients from the following counties: Santa Barbara County
We serve patients from the following cities: Solvang


Healthgrades. View Background Information and Reviews
Website Safety Ratings and Reputation – AVG Threat Labs. View Details
Norton Safe Web. View Details
Trend Micro Site Safety Center. View Details
Back to top of All-on-4 Dental Implants